A last-second penalty goal by Will Hooley from a tough angle as at least 40 meters away gave the USA Eagles their first ever win over Samoa Saturday in San Sebastian, Spain.
The Eagles, who had lost five games in a row (all very close) to Samoa battled a hugely physical Manu Samoa team and some of their own mistakes to take the game 30-29.
Dream Start For Eagles
The Eagles started out well, dominating possession and knocking on the door within the first two minutes. While Samoa survived the first scare, eventually, all that defending would take its toll. The Eagles kicked for the corner on a penalty, and after a mac and several charges to the try line, hooker Joe Taufete'e dove over for his 13th try in a USA jersey.
Up 7-0, the Eagles marched right back down and earned a penalty for offside that Hooley put over and the USA led 10-0.
With the conditions chilly and wet, both teams tried to force the other into errors by kicking the ball. For the most part, neither the USA nor Samoa could gain a huge advantage with the kicking game, but they had their moments. One such moment came when USA scrumhalf Ruben de Haas launched a box kick that went high, but not far forward. No one caught the ball and it landed in the arms of flanker Hanco Germishuys, who shrugged off a tackler and then fended off another before galloping down the right sideline to slide in for a wild try. It would not be the last.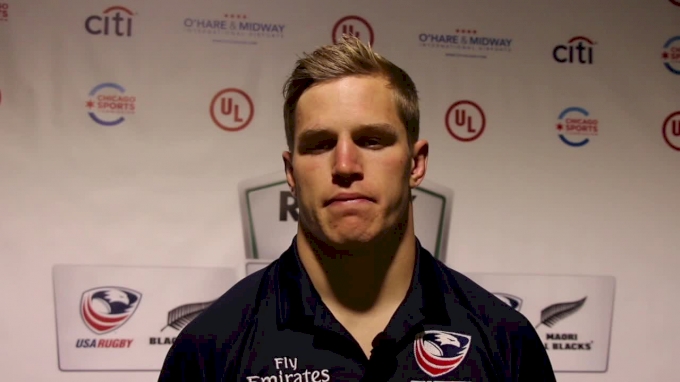 Samoa Regroups
Down 15-0, Samoa regrouped, and finally got some sustained possession. Challenging the Eagles with ball in hand, Samoa exposed some weak front-up tackling, and that led to prop Logovi'i Mulipola crashing over for a try to make it 15-7. Moments later center Alapati Leiua found a seam and that led to wing Ed Fidow cruising down for a try and a 15-14 scoreline.
The Eagles suffered a blow after that, when captain Blaine Scully was forced to leave due to a badly bleeding nose. He would not return. Samoa saw that a new fullback, Will Magie, was on the field and immediately sent a kick that fell between Magie and wing Ryan Matyas. 
Neither caught it, and it was Mulipola on the chose who linked with flanker Josh Tyrell, who in turn set up scrumhalf Melani Matavao for another long-range try. With about six minutes left in the half, it was now 21-15 Samoa.
But right off the restart, the Eagles got one back. Matavao was hit by Nick Civetta and his pass out of contact was nabbed by No. 8 Cam Dolan, who was in untouched into the corner. That made it 21-20 for Samoa, and that's how the half ended.
Shocker
Both teams came out for the second half determined to defend better, and immediately the USA failed. No one could get the handle on the kickoff, and Samoa wing JJ Taulagi kicked the ball ahead and chase in for a try that took less than 15 seconds to score. It was a shocker try for Samoa, but the last one the team would score all day.
The game settled down to a more physical battle. The USA had scoring opportunities but opted for kicks to chase – most of which rolled into touch or were caught for the mark by Samoa – while Samoa just wasn't able to finish off half-breaks the way they did in the first half.
Down 26-20, the Eagles had a shot at points, but Hooley's plant foot slipped on the wet field and he missed a fairly easy attempt. But then the USA got a break as a high, wide pass from Samoan flyhalf Tusi Pisi wasn't high enough and Cam Dolan intercepted it to go in front 56 meters out. Hooley converted and the Eagles led 27-26. That was Dolan's 13th try for the USA, tying him with Taufete'e, Taku Ngwenya, and Mike Te'o for 5th all-time for the USA.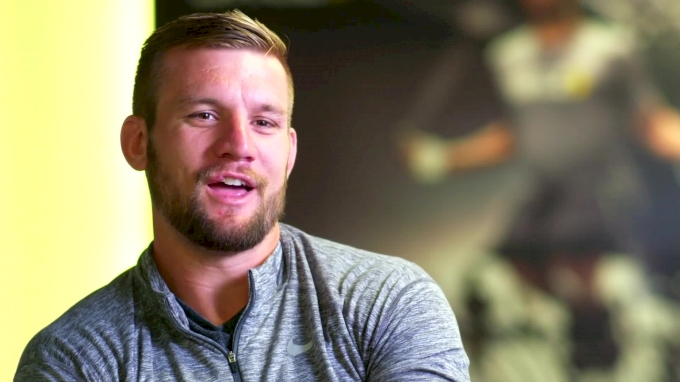 That lead lasted about two minutes as Samoa took a penalty for offside and D'Angelo Leuila put it over from a tough angle.
Dramatic Finish
That made it 29-26. Both teams had opportunities for more. Samoa twice fly-hacked the ball in-goal only to see USA debutant Gannon Moore race in to save the day. Taufete'e was right on the line but an ill-advised offload led to a knock-on.
Then, with no time left, the Eagles took a lineout near halfway, and mauled about ten meters. Samoa came in from the side, and without hesitation, Hooley took off his scrumcap and prepared for the kick. He put it over, and referee Alexandre Ruiz blew the final whistle.
USA 30, Samoa 29. The previous five games had all been Samoa wins, although four within a try and another 25-16. The USA won this despite having their starting flyhalf injured, and their captain taken off before halftime.
In addition, Germishuys came on as a late addition to the starting lineup because John Quill was a late scratch. 
Three USA players and four Samoa players made their test debuts in this game. Eagles Gannon Moore, David Ainuu, and Devereaux Ferris all got their first caps.
USA 30
Tries: Dolan 2, Taufete'e, Germishuys
Convs: Hooley 2
Pens: Hooley 2
Samoa 29
Tries: Mulipola, Fidow, Matavao, Taulagi
Convs: Pisi 3
Pens: Leuila