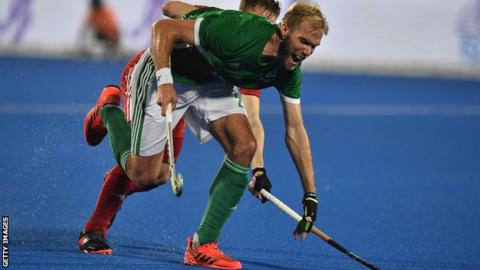 Ireland's first Hockey World Cup appearance in 28 years has ended in bitter disappointment for a team used to achieving their goals.
Having travelled to India with quarter-final ambitions, failure to advance past the pool stages will be a bitter pill to swallow for a generation of players who won a European bronze medal in 2015 and secured Olympic qualification for the first time a year later.
"I feel empty because you never get used to losing. It's painful," said Ireland coach Alexander Cox.
"You feel sorry for the boys that we're out of the tournament and it's not a nice feeling."
Having started the competition with an encouraging performance against the world number one-ranked Australia, a 4-2 defeat by England saw Cox's team slip out of contention to reach the knock-out stages and may also affect their prospects of Olympic qualification for Tokyo 2020.
"It's a heart-breaking feeling right now. I'm so incredibly proud of what we tried to do here these last three games but unfortunately have just come up short again," said team captain David Harte.
"This just gives you an idea of how close we are to the top teams in the world. Against England and Australia, both higher ranked sides than us, and it was just small details here or there between us.
"Hopefully this will be a springboard for us towards 2019 and our Olympic qualifiers."
Great expectations
Hockey is enjoying a renaissance in Ireland following the exploits of the women's team in making it all the way to the World Cup final in summer.
The men's team had hoped for similar success this month but now face a battle to hold onto their top-10 world ranking for next year.
Cox, who replaced Craig Fulton as head coach in August, wants his team to develop a more aggressive approach in front of goal: "I think in every game in this tournament we had an opportunity to get a result but in the end, we weren't clinical enough in all three games.
"There are certain areas in the way we play that need to improve for the future, to be more clinical and to get results because in this tournament we didn't.
"We tried and I'm proud of the players and how they conducted themselves throughout the tournament.
"In every game we were really close so we have to make the next time we are on the other end of the result. If you look at the bigger picture we can also be proud of the way we played here and we gave it our all."