"We lowered prices but we didn't lower prices as much as we did in the prior year and we didn't achieve the growth we were hoping to achieve in the womenswear category, which is an important area," Mr Scott told The Australian Financial Review.
"Customer numbers were quite strong and we continued to lower our average sell price, we just didn't generate the same sales volumes as previously."
Transition period
Mr Scott said Kmart was going through a transition period as it learned to deal with massive volume growth triggered by price reductions.
"Last year we sold over 1 billion units – that is a great problem to have but it does put some pressure on our stores and our supply chain," he said.
Guy Russo, the architect of Kmart's turnaround, retired in November and the under new department stores boss Ian Bailey the company is changing its supply chain, logistics and store processes to improve productivity and better cope with volume growth.
At Wesfarmers' investor strategy day last year, Mr Bailey said Kmart's volumes were growing 20 per cent some weeks and stores and distribution centres were struggling to keep up.
Advertisement
Wesfarmers is more reliant on continued earnings growth from Bunnings, Kmart, Target and Officeworks after demerging Coles last November and is selling a series of assets including its remaining coal operations, Kmart Tyre and Auto and its stake in Quadrant Energy last year.
Christmas 'soft'
The negative Kmart trading update followed profit warnings from Kathmandu and Costa Group and comes amid growing pressure on retailers as house prices fall and living costs rise.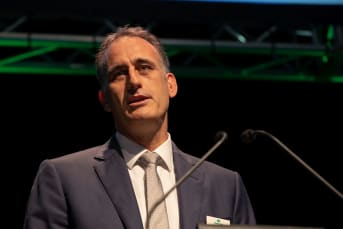 In a report on Monday, Morgan Stanley analysts said Christmas trading for non-food retailers was "soft", with online promotions in November pulling sales forward from December, decimating foot traffic in shopping centres and forcing retailers to discount more heavily to achieve budgets.
Foot traffic fell about 15 per cent and 23 per cent respectively in the last two weeks of December, according to ShopperTrak data.
A Deutsche Bank report last week said several retailers had described recent trading as the "worst Christmas in a number of years".
"Traffic and sales were generally soft but margins were a bigger issue, particularly for specialty apparel and accessory retailers," said Deutsche Bank analyst Michael Simotas.
Advertisement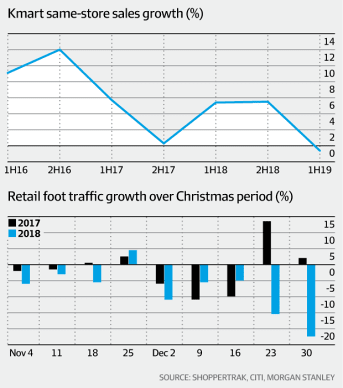 Mr Scott said trading at Wesfarmers' other retail divisions was generally in line with expectations.
"It's clear consumers are facing some cost of living pressures but I wouldn't say it was a bad trading period," he said. "We can't blame the market for our [Kmart] result."
One-off gains
Wesfarmers expects to book at least $3.2 billion in one-off gains in the December-half, including $2.1 billion to $2.3 billion on Coles, $670 million to $680 million from the sale of its stake in the Bengalla coal mine, $265 million to $275 million from the sale of Kmart Tyre and Auto, and $US98 million ($138 million) on the sale of its stake in Quadrant Energy. These gains will be partly offset by a $130 million to $150 million provision relating to supply chain modernisation in Coles.
In the short term, Wesfarmers has used the proceeds to reduce net debt, which has fallen to just $300 million from $3.6 billion in June 2018.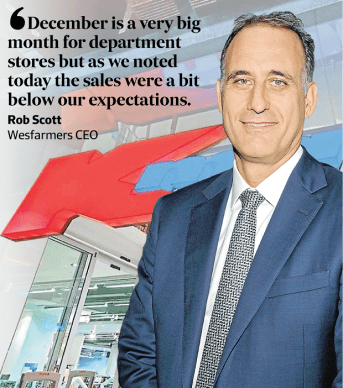 Mr Scott said Wesfarmers was considering opportunities for capital management and investment in existing businesses and reiterated the group would not be rushed into making acquisitions, even though asset values had fallen significantly in the last few months.
"Asset values have come off a bit, there's a lot of volatility in capital markets and it's usually during those times that good opportunities arise," he said. "That's why I'm pleased to be going into this year with a very strong balance sheet."